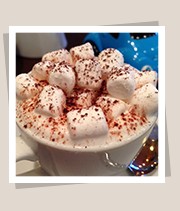 Mini Malabar…
You can't have a decent coffee house without a decent offering
for the kids, and our Mini Malabar menu aims to please.
We've consulted the best brains in the business (well, our
son aged seven and three quarters), to offer the finest range of
food and drinks – from yummy finger sandwiches and lunch
boxes to delicious Babyccinos and Babychocos.
There's always the Malabar toy box to keep those little hands
and minds occupied whilst you relax and enjoy your wonderful
coffee… and when it comes down to, ahem, the call of nature,
we've even got baby changing and toddler training facilities to
keep their little bottoms happy too.