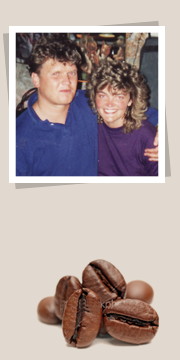 It all began…
Malabar was born out of a love of coffee and an urge to provide something a little different to your average High Street offering. Jointly owned and run by local couple Stuart and Julia Baber, our aim is to provide the best coffee and serve the best quality produce, all with the best service in Sevenoaks.
It's fair to say we bring different skills to the table. Having been together for over 25 years, we've been told we make a formidable team. From Stuart's expertise and business acumen gleaned from his impressive career with large leisure and food companies, to Julia's forensic attention to detail honed during her long career at the BBC in London, we are proud to have created a unique community which not only combines our experience and passions in one business but also brings people together and unites them though their shared love of wonderful coffee and excellent produce.
Oh, and let's not forget our young son William who helped create the Mini Malabar menu and who prides himself on being Head of Quality Control (Cookie Division).
Yes there's no doubting the coffee is fantastic, but we and our wonderful team are passionate about providing the same levels of excellence in the other products we sell. Our ever popular breakfast muffins, toasties, paninis and savoury croissants are made fresh on the premises every day. Our irresistible cakes are locally supplied by small, home grown businesses and our pastries are baked using the finest organic ingredients and delivered fresh to our door, seven days a week. From a pot of Fairtrade, award-winning loose-leaf tea to our range of hot chocolates and freshly blended smoothies, the Malabar team strive to provide excellence in everything we do.
We are extremely proud to have been awarded an award for Townscape Improvement by the Sevenoaks Society in 2013 for our restoration of The Shambles square at the rear of our Sevenoaks shop, and equally chuffed to be nominated for a Sevenoaks Business Award for three consecutive years, scooping the best business award in the Customer Choice category in 2014. The icing on the cake, if you'll excuse the pun, came when we opened our second branch of Malabar in the village of Riverhead in December 2015.